Career News
Welcome to Equis Staffing's Career News section. Our mission is to continue to provide education through thought leadership and inspire our readers with new ideas.
Condense Your Interview Process and Land Candidates Quicker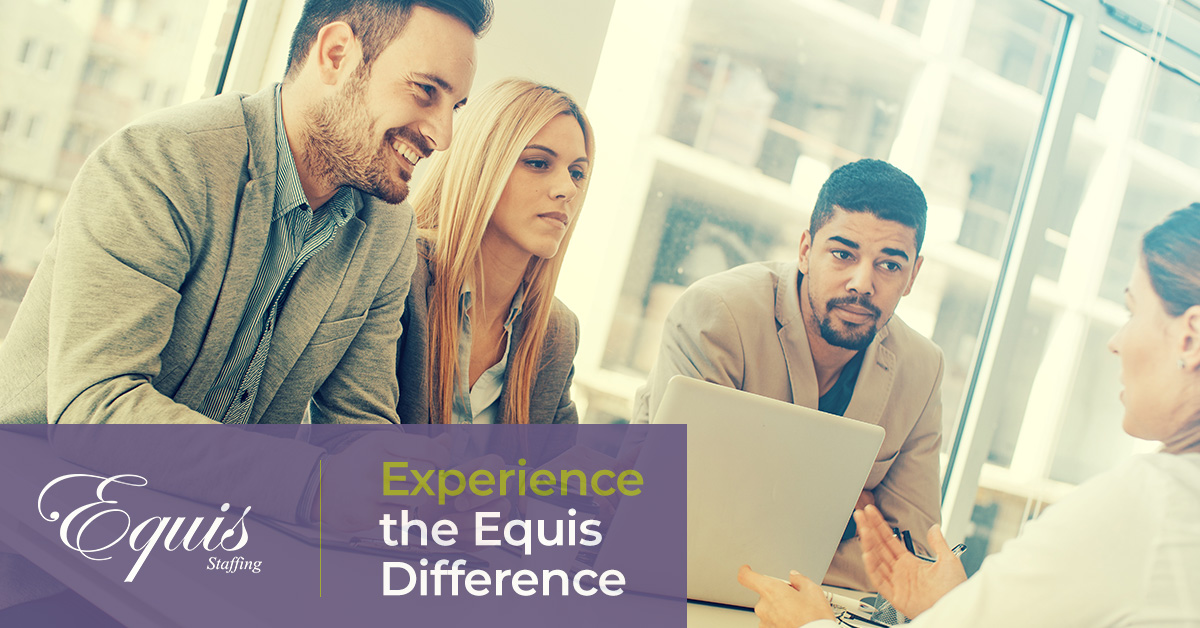 Companies are facing a series of challenges that are making securing top talent more difficult than ever. Unemployment is low and the labor force is shrinking. Certain specialized skills are becoming harder to find. The most capable professionals can usually pick and choose between offers from multiple potential employers.
In today's hiring environment, having a long hiring process will only hurt your chances of landing the talent you need. While you are sorting through applications or scheduling second (or third) interviews with candidates, other companies are sending out offers, removing strong candidates from the pool of applicants.
If you want to secure some of the best professionals available, condensing your interview process is a must. Here's how to get started.
Rethink Multi-Round In-Person Interviews
For mid- and upper-level positions, having multiple rounds of interviews is common. However, this approach isn't efficient from a time perspective if there is not a defined timeline to adhere to.
However, you can streamline the process dramatically if you shift away from multiple in-person interviews. For example, do a first round of candidate screening internally or with a quick phone interview and narrow down your list of top contenders. Then, either invite just those top individuals for an in-person meeting or go further and schedule an in-person interview even before the phone interview to get the schedule set.
Often, you'll find that this approach is easier to coordinate and takes less time overall. You don't end up conducting longer interviews on candidates who seemed to have potential on paper, but clearly weren't the right fit based on a short conversation.
If multiple in-person interviews are necessary, have the managers block out time before the first candidate participates in any interview, even a phone screening. This creates a schedule in advance, allowing prospective new hires to be easily worked onto the calendar. Having a plan of action to review in-person interviews and notify candidates quickly keeps the process moving and increases the candidates' engagement and excitement about the opportunity.
Think Simultaneously, Not Sequentially
Most hiring processes include multiple steps to be completed before an offer can be extended. This can consist of anything from interviews to background screenings to employment verifications.
A large number of companies treat these tasks like a checklist, working their way down, ticking off each box before proceeding to the next. Many of these actions can be done simultaneously and doing so can shorten your hiring timeline.
For example, instead of asking candidates to send a list of references after an interview, have them bring that information in with them when they attend the meeting or even request that they submit it over email in advance. While the background check is in-process, work on contacting their references and complete any employment verifications.
Unless there is a legitimate reason to delay one step until another is complete, get as many of them moving forward as quickly as you can. This can shave days, if not weeks, off your process, which can make a world of difference!
Work with a Recruitment Firm
Most staffing agencies have existing pools of high-caliber talent with whom they have a relationship. By working with a recruitment firm, you can tap into their resources and expertise, allowing you to find skilled professionals quickly and efficiently.
Most recruitment firms also take the time to screen potential candidates before referring them to you. This saves you the time of performing these reviews internally and cuts another step out of your internal process.
Put Your Hiring Process on the Fast Track!
By following the tips above, you can decrease the amount of time it takes to hire a new employee, making it easier to find the ideal job seeker and lowering the chance that you'll miss out on top talent because of the length of your process.
If you are interested in learning more about how working with a staffing and recruiting agency can benefit you, the professionals at Equis Staffing can help. Contact us to discuss your hiring needs and see how our services can speed up your process today.

Comments ():