Career News
Welcome to Equis Staffing's Career News section. Our mission is to continue to provide education through thought leadership and inspire our readers with new ideas.
What Does the Growth of Artificial Intelligence Mean for the Recruiting Industry?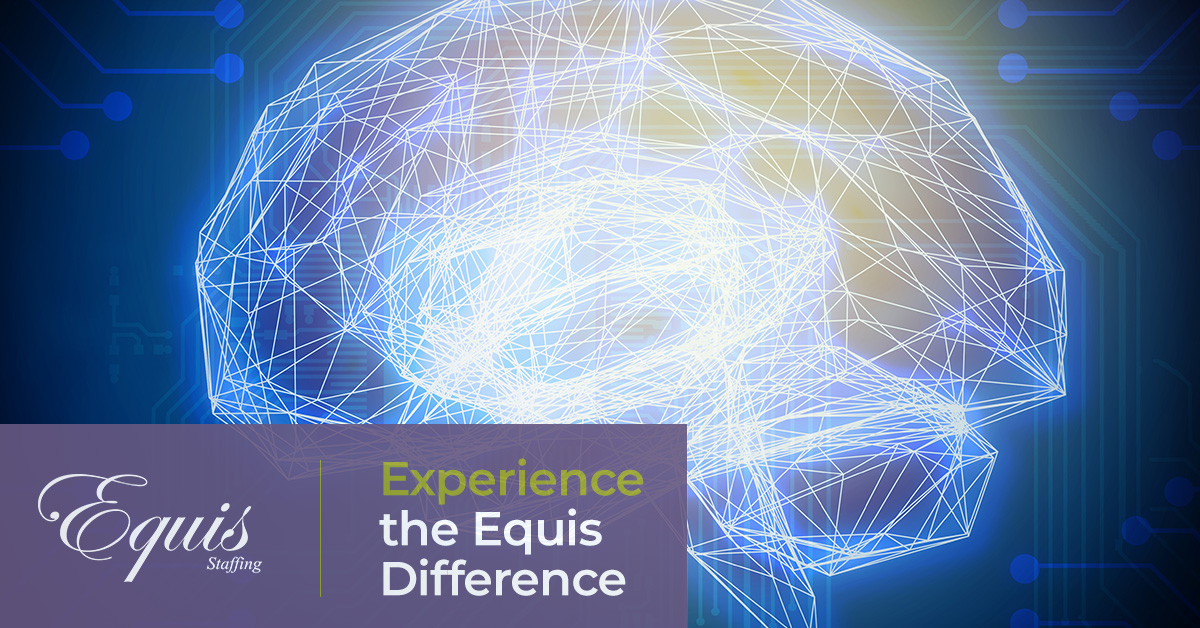 When new technologies that could potentially handle tasks currently managed by people emerge, being fearful is common. Many worry that massive job losses are on the horizon, especially as artificial intelligence (AI) gains a stronger foothold in a wider range of industries.
However, AI could also be the key to great advances, and not all of them result in layoffs. In fact, if the technology is steered properly, it could create more opportunities, not less.
In the end, it's unlikely that any sector, including recruiting, won't be significantly changed by AI at some point in the future. If you are wondering what the growth of the technology means for the recruiting industry, here's what you need to know.
AI is a Cooperative Technology
While AI is incredibly capable in a variety of ways, it isn't designed to be used without human influence and interaction. The technology can accomplish a lot in areas like data analysis and organization, allowing it to draw insights from stored information and recognize patterns that a person may miss.
However, it isn't capable of high-level creative thinking. It also can't stand in for the knowledge a person may acquire over the course of their career, especially when there's a social aspect.
In the recruiting industry, this makes AI a cooperative technology, not an autonomous one. These systems will be able to perform tasks like resume screening, candidate scoring and other analytical activities. It may even be able to automate basic communications, such as follow-up and updates during the hiring process. But, when it comes to interviewing candidates, assessing a job seeker's soft skills or determining whether a person matches with a company's culture, it won't be able to replace recruiters or hiring managers.
Increasing the Efficiency of the Hiring Process
The biggest benefit of AI from the recruitment perspective is the ability to increase efficiency. Tedious or cumbersome activities like reviewing dozens of applications to identify candidates for interviews can be handled by the technology, removing this burden from the hands of recruiters.
Similarly, the delivery of certain follow-up communications can be automated, ensuring the candidate gets the proper message at the right time without the recruiter having to schedule the email or social media DM.
Additionally, AI can assist job seekers during the application process. For example, a chatbot can answer common questions while the candidate is reviewing the vacancy announcement or preparing their information for submission.
Ultimately, this allows recruiters to focus on the tasks that truly require the human touch, like conducting interviews, assessing a job seeker's personality, discussing career goals and otherwise forging a positive candidate-recruiter relationship. And, as the labor pool dwindles and skill gaps remain an issue for companies, this shift in duties likely won't result in job losses. Instead, it will reposition recruiters as problem-solvers and consultants, as their expertise will remain necessary if a business needs to locate top talent for their open positions.
If you are interested in learning more about the impact of AI on the recruiting industry, the professionals at Equis Staffing can help. Contact us to discuss your hiring needs today and see how our expertise can demystify AI in the workplace.

Comments ():