Career News
Welcome to Equis Staffing's Career News section. Our mission is to continue to provide education through thought leadership and inspire our readers with new ideas.
Why It's Important to Take Cybersecurity Seriously at Work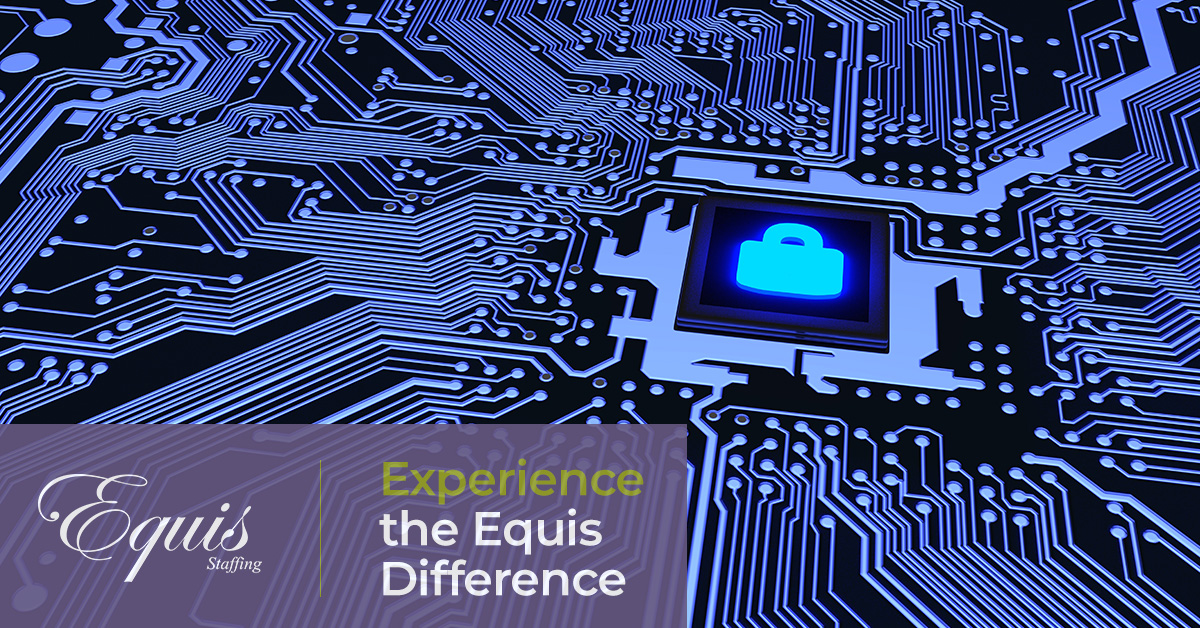 In the eyes of hackers, any company is a potential target, including large enterprises and small businesses. Phishing campaigns are often advanced over email and a single file with malicious code wreak havoc on organizations. Pop-ups that appear to alert users to a threat can actually be an attack, and a single click can allow malware onto the computer or network.
Some cybercriminals go as far as to leave USB drives around in public areas hoping an employee will plug it into a computer to discover its owner, allowing a virus to enter the system. Others use social engineering to gain a worker's trust only to use the relationship for their own gains.
Ultimately, any company could be the victim of a cyber attack, and recovering after an event can be challenging. Taking cybersecurity at work seriously is your best line of defense. If you are ready to make cybersecurity a priority in your organization, here's how to get started.
Keep Systems and Software Up-to-Date
Many systems and standard software updates are designed to repair flaws that could be exploited by hackers or cybercriminals. When it comes to antivirus and antimalware programs, the patches beef up the internal database, ensuring more threats can be identified on your computers and network, and provide more advanced removal capabilities should a machine become infected.
If you don't update your systems and software regularly, your company is vulnerable. Unless you need to perform tests before downloading a patch, it's wise to allow updates to be applied as soon as they are released.
Provide Employees with Cybersecurity Training
While you don't need to turn your entire staff into cybersecurity professionals, making sure they understand the kinds of threats that exist, how to identify potential attacks, and what to do if they encounter a threat can help keep your business safe.
Go over the hallmarks of each cyberthreat, including what an attack may look like or how their computer may act if it is infected with malware. Tell them what to do with suspicious emails (whether they should just delete them or forward them to an IT professional) as well as who they need to contact if they open a file that might be a virus. Warn them of the dangers of social engineering, particularly when it comes to connecting with strangers on social media, and let them know what information should always be treated as private and with the utmost care.
The intention isn't to scare your staff. Instead, it's to make sure everyone is well-informed, enabling them to do their part to support your cybersecurity objectives.
Make It Part of the Conversation
After initial training, you want to make sure cybersecurity becomes part of your culture. Create colorful and concise infographics that can be displayed in common areas like break rooms, send short reminder emails that highlight a particular threat on a monthly basis, and discuss any cybersecurity incidences openly so everyone can learn from the event.
By making cybersecurity part of the conversation, it will stay at the forefront of everyone's mind and helps ensures everyone has the information they need to be successful.
The professionals at Equis Staffing are specialists in IT staffing solutions and can help your team address your needs in the area of cybersecurity. Contact us to discuss your business needs today and see how our expertise can benefit you.

Comments ():