Career News
Welcome to Equis Staffing's Career News section. Our mission is to continue to provide education through thought leadership and inspire our readers with new ideas.
Top Ten Destinations for Summer in Silicon Beach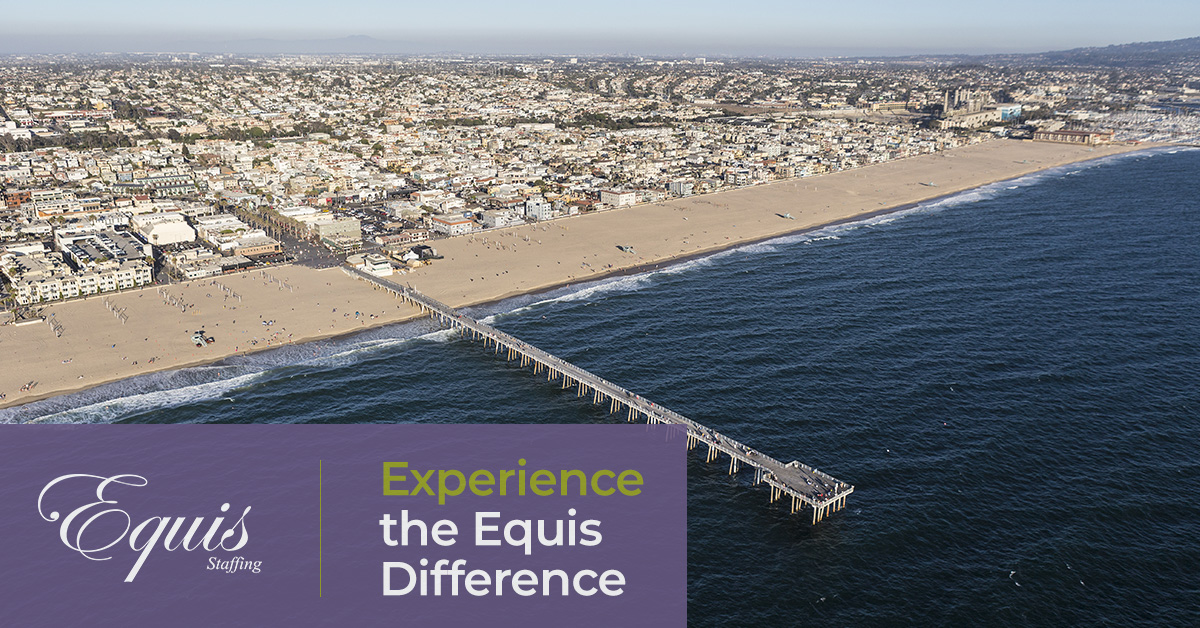 Whether you are originally from the Silicon Beach area or just moved into the region, summer often signals a time to head out and explore your city. If you're wondering what this portion of California has to offer, here are ten activities perfect for some summer fun.
1. Santa Monica Pier
Located at the end of Colorado Avenue, Santa Monica Pier is an iconic location highlighted by its signature solar-powered Ferris wheel. The pier has something for locals and visitors of all ages, from a video arcade and the Looff Hippodrome carousel, to shops and entertainers, to pubs and restaurants!
2. Surfing Lessons
A perfect option for nearly anywhere in the Silicon Beach area from Venice to Hermosa Beach, surfing lessons let you try this past time while getting high-quality instruction to help you catch your first wave!
3. Third Street Promenade
Enjoy a great day outside walking the Third Street Promenade in downtown Santa Monica! Innovative restaurants bring unique flavors from all around the world. The promenade also features great entertainment options for fans of movies and public art.
4. Water Activities in Marina Del Rey
Scenic Marina Del Rey provides a number of activities for those looking to get out on the water this summer, from parasailing and paddleboarding to sportfishing to whale watching. Gather your friends for a dinner cruise and a night out on the water.
5. Wilderness Survival Skills Clinic
If you've ever wondered what it takes to survive in the wild, this clinic gives you a hands-on experience to help you experience it for yourself. You'll receive an introduction to fire-making, shelter-building and even how to identify edible plants in the area, all while spending quality time outdoors.
6. R6 Distillery in El Segundo
Founder Rob Rubens was inspired by the spirit behind his family's theatre built in 1926 during the Prohibition period. With a desire to bring quality spirits to El Segundo, the distillery offers tours and private events for those looking to go beyond a visit to the tasting room.
7. Hermosa Beach Pier
With Santa Monica Pier to the north, Hermosa Beach Pier marks the southern parts of the Silicon Beach region. Surf enthusiasts can check out a large part of Hermosa Beach's heritage, the Surfer's Walk of Fame.
8. Indoor Skydiving Experience
Looking to get away from the ocean for a high-flying experience? Thanks to technology, you can have the sensation of skydiving while staying indoors. An indoor skydiving experience like iFly in Hollywood is perfect for individuals or groups, giving you a skydiving experience without having to jump out of a plane.
9. Automobile Driving Museum in El Segundo
Check out one of southern California's top destinations for car enthusiasts! The Automobile Driving Museum offers exhibits and car shows, Sunday fun rides, and kid-friendly learning events.
10. Rainy-Day Getaways in L.A.
Los Angeles is a short ride from many locations in the Silicon Beach region – in 2016, the new Expo Line from L.A. to Santa Monica opened for business. If the weather forces you indoors on the weekend, check out a movie at the Nuart Theatre or give roller-skating a try at Moonlight Rollerway.
If you're looking for a job in Silicon Beach, the accounting and IT recruiting professionals at Equis Staffing can help. Contact us to learn more about our services today and see how our expertise can benefit you.

Comments ():